It is great to have a photo booth at your wedding because it's such a fun way for people to take pictures and be creative. Some people just want to take their own pictures with the old cameras, but those are kind of boring. With a photo booth at your wedding, everyone can get creative and make funny poses, people can choose different filters and digital props and every guest gets their own print right on the spot so they can take it home with them as a memory of your wedding.
photo booths are perfect for weddings because Weddings are such a big day! The photo booth is an excellent method to liven up your wedding. Everyone wants it to go well, and everyone will recall it for the rest of their lives. Having our fantastic photo booth at the wedding will guarantee that the occasion is unforgettable for both you and your guests!
Guests get instant memory
Photos are taken by our professional photographers. We have the best photo booth in Los Angeles for any event! Our packages come with unlimited prints, hours of non-stop fun PLUS Social media integration, Book now for your wedding.
There is not a better way to capture once-in-a-lifetime moments, regardless of the event than a photo booth! Photos are also the perfect souvenir from the event and you'll also find that renting a photo booth is a lot cheaper than making party favor bags for your guests. 
A friendly attendant will be there to make sure your guests get the full photo booth experience. Your guests will get unlimited photo prints and you'll receive all of the digital files in an online gallery that can be easily shared with friends and family.
Photo booths are also great because your guest can share the fun they are heaving on their social media and share it with their family and friends.
What do You Get with The Photo Booth?
With the photo booth, you will get a red carpet, Backdrop, and VIP Poles for that fancy look, We can also provide an enclosed photo booth option, custom photo booth backdrops. Inflatable LED Enclosure, custom digital props, and filters, slideshow video.
A photo booth is fun for guests of all ages, and it'll give your attendees something to do when they need a break from the dance floor. Plus, photo booths can be a great ice breaker for guests who haven't seen each other in a while or who don't know a lot of people at your wedding
When you get your online gallery, you'll be able to download the pictures in high resolution so you can print your favorite ones. If printing isn't your thing, not a problem! We have an option where we can upload them directly to Facebook or Instagram for you if that's more
Photo booths truly add life to your parties. You can use your photo booth business to host memorable birthday parties, wedding receptions, or bachelor's parties. Using photo booths for parties offers a unique experience that's not the same when we use mobile phones. 
Photo Booth adds a modern feel to parties and events.
Photo booths are great for weddings, especially for the bride and groom's send-off! The photo booth enables the couple to kiss in front of their family and friends which will be a lovely keepsake for them afterward. It'll surely be a day that you'll cherish.
So what exactly is a Halo Booth? Originally made popular by Hollywood stars through a company known as Angels Music, the Halo Booth is a modern take on a traditional photo booth picture. It's the equivalent of putting a Snapchat filter into a high-res DSLR photo experience. And best of all, it's environmentally friendly!
How to Use a Photo Booth?
It's up to you how creative and out-of-the-box you get with your photo booth. Try adding quirky props, using a photo prop backdrop, or even transforming yourself into another person using our special filters app! Not only will this add fun and excitement to your event, but it'll also ensure that people remember the day.
How much does a Photo Booth Rental in Los Angeles Cost?
You can get a photo booth rental for under $600 for 4 Hours, That's cheaper than a photographer, and you get more features such as custom template design, better technology, professional staff, social sharing, unlimited printing, custom props, and more!
Why Photobooth is Popular?
Photo booths have become so popular in the most recent years for all special occasions and here's why:
They are a great way to get your guests engaged and serve as an icebreaker at your event. Photo booths are so much fun and it is a great source of entertainment for all your guests.
They help leave lasting memories of your event  … It's especially great for weddings because it provides great photos to have as memories on your special day. There are even themed photo booths available for that extra wow factor.
Adds value to your guest's experience  You'll be surprised how much they will enjoy it.
The rise of photobooths grew rapidly during WWII as soldiers' wives and loved ones took photographs to send one another. It also started to appear in movies and TV shows, gaining notoriety in a film called 'The Band Wagon' which featured Fred Astaire dancing out of a photo booth.
photo booths will remain a popular attraction at many weddings, parties, and other events! According to Forbes, photo booth rentals continue to be searched for more often than DJs when it comes to planning your upcoming events.
When is a good time to have the photo booth?
Photo booths are popular, but it is important to have them at the right time.
When everyone is still arriving and starting to settle in, a photo booth is a perfect way to break the ice. Photo booths have the ability to bring people together, giving your guests something to do together and to talk about.
Ideally, you would book your photo booth for when all of your guests have arrived and are mingling. The point of a photo booth is to break the ice with some fun photos that can be shared.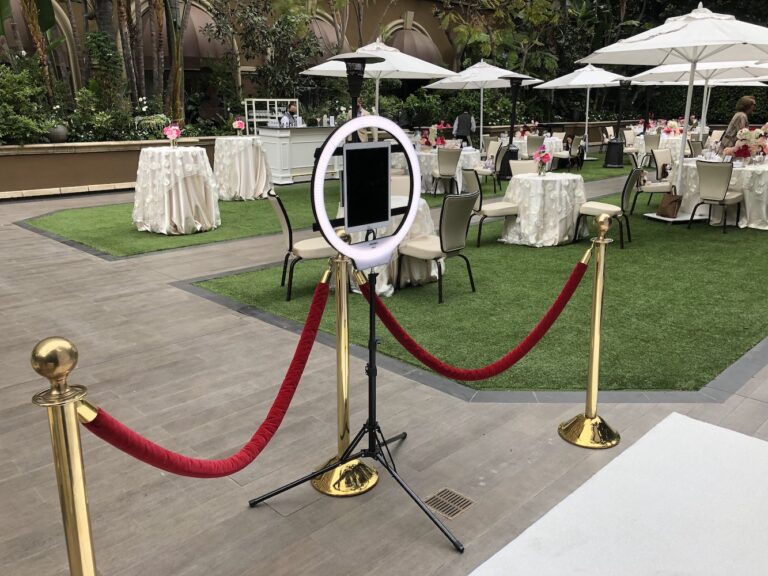 Looking for Los Angeles Best Photo Booth Rental Experience? Our mission is to give you professional first-class Photo Booth Service, Astonishing Fun. Quality Images. Unbeaten Value. Premium Photo Booth and Luxury Experience.
Get our Photo Booth to capture all the fun and exciting memories at your event. We provide custom, high-end photo booth rentals, All integrated with social media. Our Photobooth is more modern and can do boomerang videos, digital props, and Party GIFs. Your guests will be able to text and email the images to themselves as well as get a printed picture on the spot.
Angels Music is a mobile photo booth rental company. We also offer free consultations, which include consultation for photo booth services, Wedding DJ and Event lighting, as well as many other different types of equipment needed at any kind of party or event. Angels Music has over ten years of experience in the industry,
Wedding Photo Booth Rental
If you looking to Rent and Photo Booth, We provide top-of-the-line photo booth service in the Los Angeles Area, which will take your event to the next level. We are able to personalize and customize the photo booth experience for each client. From onsite printing, personalized picture templates, unique backdrops, custom props, Our photo booths will bring a new experience to your event, meanwhile making all the memories last forever!
360 Photo Booth, Wedding Photo Booth, Mitzvah Photo Booth, Birthday Photo Booth, any party photo booth! you'll get it with a customized template for your event, photo booth printer, and Photo Booth Backdrop. We can also provide an Enclosed photo booth option, custom photo booth backdrops. Inflatable LED Enclosure, custom digital props and filters, and Slideshow video.